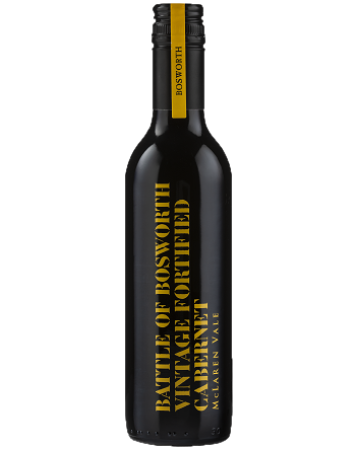 Battle of Bosworth Vintage Fortified Cabernet Sauvignon
Vintage Ports are generally made using Portuegese varieties, the best-known one being Touriga Nacional. We actually already make a Vintage Fortified wine using Touriga, but we aren't sure what possessed Joch to make one using Cabernet Sauvignon. Word has it that there is some Viognier in the mix too, something about grafting Cabernet over Viognier and not all of the grafts 'taking'. Joch was evasive when questioned further about the Cabernet/ Viognier blend. How intriguing!
We picked the Cabernet Sauvignon (and Viognier!) significantly later than we would had we been making a dry red, and then fermented it in open vessels as per the norm. The wine was then fortified with fine brandy grape spirit to stop the fermentation process which brought the alcohol up to about 19%. Joch then put the wine to bed for a while to mature in a Hogshead barrel (300 litres) and a Barrique (225 litres) prior to bottling.
Wine Specs
Varietal
Cabernet Sauvignon